On June 6, 7, and 8 2023 in Patras (Greece) the DAISSy research group of the Hellenic Open University (HOU) successfully organized the Learning, Training, Teaching Activity (LTTA) of the WINBIZ project.
The activities were carried out on-site at the facilities of the HOU.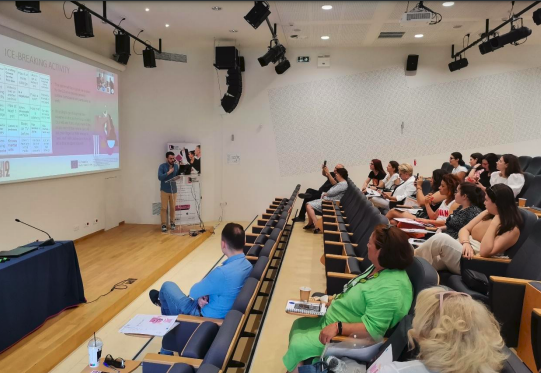 The three-day Tutor Training, involved 25 participants being adult education trainers working in the field of entrepreneurship, social entrepreneurship and or linked to the refugee/migrant context and representing 5 (out of six) partner countries of the WINBIZ project, namely: Portugal, Greece, Germany, Romania, Republic of North Macedonia. They had the opportunity to be introduced to the project and its completed as well as ongoing activities, such as the WINBIZ Social Report, the WINBIZ Trainer's Toolkit and the forthcoming WINBIZ Course on Entrepreneurship and Social Entrepreneurship. Participants were trained on engagement and communication practices within a blended learning environment specifically focused on migrant women, with inclusiveness and diversity training being high on the training priorities. Interactive activities, games, energizers and other engagement technics took place, in order to prepare the trainers for the delivery of the WINBIZ Training Course to migrant women.